The 25th Learner Conference is pleased to announce a pre-conference event, organized by the Forum on Intercultural Dialogue and Learning (Laboratory of Sociology & Education, DESECE, University of Patras).
Professional Narratives in Refugee Education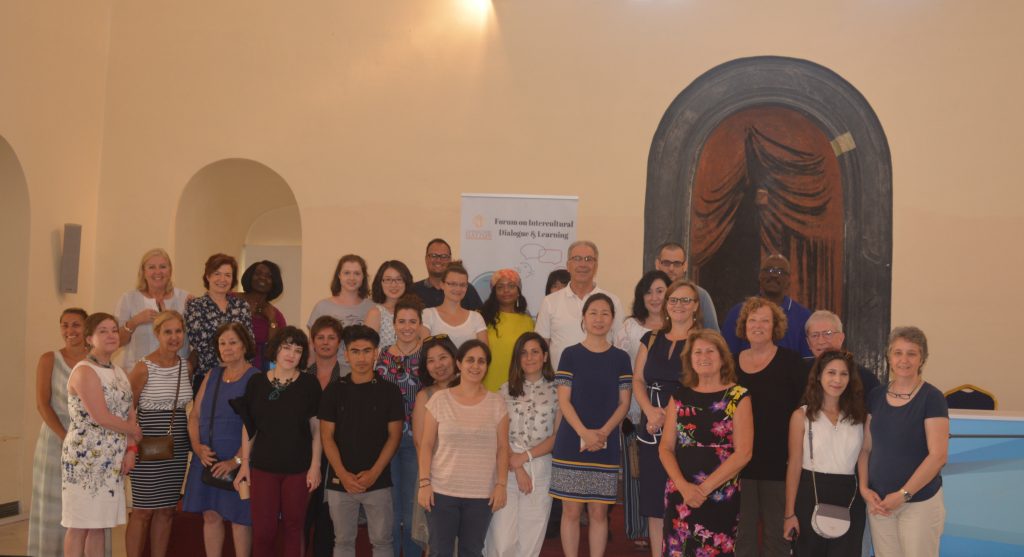 People are story-telling creatures. Narratives are an essential feature of human nature as they define our identities, values, and worldviews. They are self-reflexive mechanisms creating a sense of internal order and security when dealing with overwhelming global experiences of mobility, dislocation and exile. This special event focuses on professional narratives from the field of Refugee Education (RE) in Greece. Particular attention will be given on professional narration and experiences draw from social workers, lawyers, doctors, educators and volunteers working with refugee children in Greece particularly after 2015 when more than 1 million refugees crossed the country. Professionals discussed the following questions:
Where do they see themselves in talking RE challenges?
What are the required types of responsibilities/skills in the RE field?
What are their main accomplishments?
In addition, 3 refugees students were invited to tell us about themselves and their dislocations in searching for a new Home. These cultural narratives will unfold the challenges of dislocation, the trauma, but also the promise of a future new life.
Event Schedule
Time
19 June 2018
14:00
Pick-up from Athens- University of Athens – Panepistimiou 30
16:00
Arrival in Nafplio

Park Hotel http://www.parknafplio.gr/el/contact

17:30 – 19:15
Τour in Palamidi (optional http://www.nafplio.gr/en/arxaiologikoixoroiseimiamenu2/62-2011-03-20-10-43-36.html )
19.45-20.10
Refreshments

Forum Opening, Dr Eugenia Arvanitis, University of Patras
Official Address by European Commissioner of for Migration, Home Affairs & Citizenship, Mr Dimitris Avramopoulos (televised message)

20:10 – 21:00
·       The concept of the Xenos: Select examples from Greek antiquity and beyond, Professor Ioannis Petropoulos, Center for Hellenic Studies in Greece, Harvard University.

·       Reconceptualizing Culture, Identity, Family and "Othering" in Refugee Contexts, Professor Bahira Trask, Department of Human Development and Family Sciences, University of Delaware

·       The Unesco Chair at the University of Nicosia and its Role in Promoting Intercultural Dialogue and a Culture of Peace in Cyprus and Beyond, Dr Emilios A Solomou, UNESCO Chair, University of Nicosia, Cyprus.

Discussant: Eugenia Arvanitis, University of Patras

21:15
Mediterranean dinner
Time
20 June 2019
8:00 – 10:00
Guided Tour in the old city of Nafplion and the "V. Papantoniou" Museum, organized by the Peloponnesian Folklore Foundation http://pli.gr
10:10 – 11:00
Refugee narratives – pathways to learning

·       Fridoon Joinda (Afghanistan)

·       Rashid Ghalli (Western Sahara

·       Jawid Danish.(Afghanistan)

Discussant: Ms Kathleen Macdonell, The American College of Greece

11.00-11.15
Coffee break
11:15 – 12:30
Colloquium – The Lost Generation: Fulfilling the Global Promise on the Right of Education for All and Access to "Social Citizenship"

·       Drs. Martha Buell, Myae Han, Rena Hallam, Department of Human Development and Family Sciences, University of Delaware

·       Ms Kathleen Macdonell, The American College of Greece

Discussant: Eugenia Arvanitis, University of Patras

12:30 – 13:30
Lunch
13:30 – 15:00
Professional Narratives on Refugee Education

Dimitris Sakellaridis, Trainer, "Pyksis" Intercultural center for the promotion of refugee integration, part of the Greek Council for Refugees.
Froso Vakali, Trainer, NGO Elix
Maria Liondou, LRM, Hellenic Open University
Kleio Sakellaridou, LRM, Hellenic Open University
Georgia Fountoulaki, LRM, Hellenic Open University
Papapostolou Anastasia, LRM, Hellenic Open University

Discussants: Rena Hallam & Kathleen Macdonell

15:00 – 15:15
Event Closing:

Proffessor Mary Kalantzis, University of Illinois
Dr Eugenia Arvanitis, University of Patras

15:30
Departure to Athens- arrival point University of Athens – Panepistimiou 30
Venue
The Parliament Building – Vouleytiko
Vouleytiko was the first Greek Parliament (Vouli in Greek) from autumn 1825 until spring 1826, after undergoing necessary restoration by the architect Vallianos. Hence the name of Vouleyftiko, which is known until today. Originally, the building was built as a mosque consisting of a large hall and a massive dome (1730) and it was known as the mosque of Aga-pasha. The building were used for several purposes: it housed the Greek School, it was prison (the ground floor), and here took place the Trial of the Captains of the Greek Revolution (Th. Kolokotronis and D. Plapoutas). Today, Vouleytiko is a place of culture under the auspices of the Ministry of Culture.
 
Event Information
Event Organizer: University of Patras
Event Location: Nafplio, Greece
Event Dates: 19-20 June 2018
Event Cost: 100.00 USD
Booking: You may register for the tour upon registration. If you've already registered for the conference, please contact us to secure your booking.
Link: http://thelearner.com/2018-conference/special-events
Event cost includes transportation to and from Nafplio, dinner on the first day, lunch on the second day, and accommodation for one night.
Forum Partners


---
Supporting institutions/organizations
This event is under the auspices of